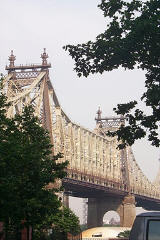 Bridge of Size
Ron writes:
Intermission is over and we are back on The Ramble after a side trip to New York to photograph bridges, Atlanta to pay bills, Albuquerque to visit my in laws, and Lakes Tahoe and Seed just to cast our eyes on some of the most beautiful scenery in the world. Only two months have lapsed and a generation of events, but they would fill these pages and anyhow, it wasn't The Ramble and that's what this forum is about.
I have to admit there was a temptation not to return until Susan told me what we're paying for this cruise and would forfeit if we cancelled. Thusly motivated, it was back on Delta's Business Elite where the recliner seats, you recall, move into 239.5 different positions and the stewardesses are above average. One Ambien as we pushed back from the gate and before the pilot could say "fasten your seat belts" my eyes slammed shut and I hoped for everyone's sake the snoring operation I had had worked. Thank you Pfizer and Dr. Kingdom.
Our first night in London, Mike Israel arranged a kind of birthday/dinner party for Susan and me and invited several very special people I had mett in England in a former life. The Brits can party, after all they spend the better part of their day in pubs drinking spirits and socializing. I went away with a fifty three year old wife, a forty year old scotch, and a twelve hour headache. Fortunately, the wife was mine, the scotch was a gift, and the headache was the price I paid for admission. It was a great night.
The next day, July 22, was my 57th birthday. It was a day of consumption. We had an incredible lunch at Nobu feasting on Peruvian and Japanese delicacies. Our waiter guided us through each course, describing the taste, texture, and purpose of each dish and, although we ordered enough food to feed the starving children in China, we managed to consume it all ourselves.
An assault on Harrods came next. We browsed through each department rubbing shoulders with exotic women veiled in black robes examining the finest collection of merchandise and food housed under one large roof at prices so high they can get away with charging $1.60 to use the loo and you think it's a bargain.
That night we experienced the Bolshoi Ballet Company in its production of Spartacus. The dancers were superb and the music was arousing. In the end, Spartacus is killed by Crassus. I knew it was going to end up that way because all evening Crassus would run back and forth across the stage leaping into the air doing this bend-at-the-waist arms-stretched-over-his-head-backwards maneuver. Also, I saw the movie with Kirk Douglas and he died.
The weekend was spent in Oxford with Mike and Nancy and their beautiful daughter Barclay. I would like to report for those of you that know the Israels, Mike and Barclay are growing up very nicely together although Barclay is progressing more rapidly. We had a wonderful time seeing a play at the Swan theater in Stratford-on-Avon and lunching by the Themes River at The Trout Inn.
Now the concept of the queue was invented at the Trout Inn. First of all, you must arrive at least two hours before the first lunch bell and stand in a queue on a very narrow one lane bridge while arriving automobiles try to knock you over the bridge rail with their rear view mirrors in order to secure your place in line. If you are fortunate enough to survive the bridge queue, you then are allowed to enter the drink queue, the food queue, and the table queue. This system was shrewdly devised so that all customers are forced to come in groups of four or more, one person for each queue. I was assigned the drink queue. Although the queue was invented in England, the Brits don't really understand its simplicity, i. e., first one, then the next, etcetera, and, most importantly, new arrivals go to the end of the queue. I started out in the third position but after ten or so minutes had regressed to the fifth position behind four little old ladies who had muscled their way in front of me. The Queue Manager arrived notifying us that another queue had formed in the adjacent bar and that the probability of being at the head of that queue was very high. So I hurried to secure my position there only to discover that this was the meeting hall for all of the German diners and they were required by national heritage to order eight pints of beer each. Time crawls by slowly as the bartender draws the perfect pint of beer especially when your position slips with each new arrival. Mike faired well in the food queue as did Susan and Nancy in the table queue evidenced by a fine lunch beside the water fall. That evening, we joined the train queue and returned to London.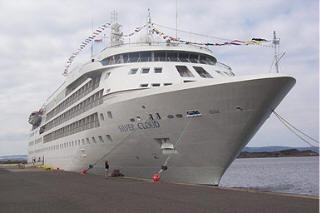 Monday afternoon we boarded the Silver Cloud in London at St. Katherine's Dock to begin the first leg of our cruise to Copenhagen via a circuitous route through the fiords of Norway and the North Cape. I guess I should have paid more attention to the route map when packing for this trip because I only checked the weather conditions in Copenhagen. That's like chartering a private jet for a Miami-Greenbay game and dressing thinking it's being played at the Orange Bowl and discovering that its really being played in Greenbay, and it's December. To get a sense of this, at the halfway point between the UK and the North Cape you cross the Arctic Circle.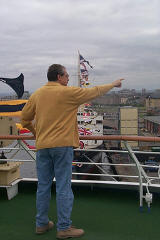 I stood constant lookout for icebergs and had long animated discussions with Captain Chiesa about wind and sea conditions as well as the eternal question of every sailor, "which direction is true north?" When I outlined my sailing credentials, he assured me that he was quite capable of handling the situation without my able assistance since he has watched the Titanic movie several times, but he didn't agree with its captain's decision to "go down with the ship". He has nailed up a poster of Celine Dion on which he's scribbled:`"Why the long face?"
The bridge's crew is made up entirely of Italians. The have names like: Chiesa, Arma, Consalvo, Basciano, Piromalli, Bardelli, and Clarko. Clarko has jet black straight hair and slanting eyes and doesn't look Italian, so I figure he must have disguised his last name to get a job on this boat. I 'm not completely comfortable with an all Italian bridge crew after my experience with Italian drivers in Rome, after all, the Silver Cloud is 400 feet long and you are not allowed to park it on the dock. I happened to be near the bridge when we backed out of the Forth of Firth at Leith and overheard the following conversation: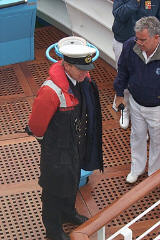 Captain
"Weigha anchor!"
1st Mate
"Shea weighs two tons capitano."
Captain
"No youa dummy, pull it outa the water so we cana be unda weigh"
1st Mate
"Captain, Ima very confused. First you tella me to weigha the anchor and when I tella you what itsa weigh, you tell me its unda weight. I thinka its very heavy. You ever try to lift that damn anchor?"
Captain
(Later on) "What wasa that bump?"
1st Mate
"I don't know.....I'ma think we crossed the Artic Circle."
Captain
"How cana we cross the Artic Circle whena we still in the lock at the Forth? Where isa the Forth pilot?"
Navigator
"Capitano. Youa thru him overboard with the other three pilots."
...and so on and so on.....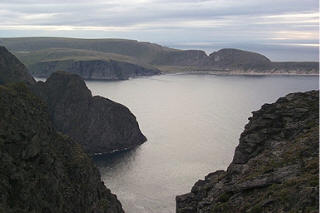 The North Cape - this is the northern most point of land on the European continent. When you get this far north almost everything you see is "the northern most" according to the sales literature and guide books. We stopped at the northern most town and then the next day at the northern most village. To me they were the same size, small. We also saw the northern most college, but in the next village we saw the northern most college that specialized in the study of the Northern Lights. We took a tour of the northern most village on the northern most tour bus conducted by the northern most tour guide who pointed out all of the northern most reindeer which were owned by the northern most Same people who live in the northern most sod roofed huts.
What is really interesting to me is that the Same (pronounced Sam-eh) people own all of the reindeer and they rent them to Santa Claus for Christmas and Hanukkah. The Same people are not Norwegians but an ethnic group that sneaked into Norway one night when no one was looking which wasn't difficult because its dark 24 hours a day nine months of the year. Each Spring, they herd the reindeer onto these islands so they can eat the geraniums that bloom on the one day the sun peaks out from behind the clouds and then in the Fall they herd them back before the Norwegians kill the reindeer for eating their flower, an action for which they will be fined about $1000. I think the Norwegian should own the reindeer. It's their country and the Same are only visitors and reindeer meat is very tasty while the food the Norwegians eat smells fishy.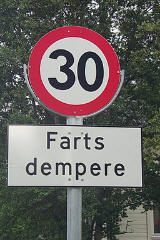 Talk about smelling fishy! Cruising this part of the world has been a new experience for me. I'm used to warm Caribbean waters and days filled with sunshine, hanging out in my bathing suit or swimming among the reefs with snorkel and fins, or taking the dingy into town to drink the local grog in some small dive or up some backwater river, and sailing from one small island to the next on a reach or with our backs to the wind and finding that perfect cove where there are no other boats, dropping our hook in the ideal spot ten feet from a picturesque palm tree and then setting up the cocktail table with nuts, cheese and crackers, sucking up the beer or rum, watching the sun set in the cloudless sky and the stars emerge from who knows where, and waiting for the boat boys looking for our sailing friend/mongo shopper Wendy to make their last sale of the day and feeling the cool night breeze, if there is one, blow across our sun baked skins and thinking how great it will be to curl up in our bunks with a good book and fall asleep to gentle rocking of the boat and the clattering of the halyards against the mast.
How can you compare that to water so cold your chance of surviving more than a few hours if you fell in are slim to none and it wasn't until day eleven that the sun came out bright enough to cast a shadow and my Bermuda shorts remained unused in the chest of drawers in our walk-in closet, and the ship pulls right up to the dock where we're shuttled in luxury buses around the villages and towns, and it's extremely difficult to select from the several restaurants onboard because one always has caviar and champagne on the appetizer menu while the other only serves smoked salmon, and the larger restaurant has three attendants per table and the other only has two that follow you through the buffet line carrying the extra dishes you can't handle, and sometimes we forget that tea and scones are served each afternoon at four with a pianist in accompaniment, and the wind always blows across our bow which means its cold when you first get into the hot tub, and you can't really mess up your cabin because Josune cleans it three times a day putting out fresh fruit and our choice of wines, fruit drinks, and starched sheets, and you can't make your own popcorn so we have to order a large bowl from room service on the nights we stay in to watch a first run movie, and most days it's so misty that the furniture on our private balcony has to be wiped down or your pants get soaked, and the rocking of the boat as it steams through the snow capped sunlit fiords at night is so gentle it's hard to sleep when you are use to the Windward Islands.....
Hmmmmm!
---
Susan writes:
Aboard the Silver Cloud
Well, we are back on the road again, so to speak: we're actually at sea, traveling ancient routes that the notorious Vikings roamed so many hundreds of years ago. The Ramble took an unexpected detour back to the States and we found ourselves in New York, Georgia, New Mexico, Nevada. It was unexpected but not entirely unwelcome, since when we left you last, in France, we were actually looking for a place to settle for a few weeks to shake off the road dust and air out the suitcases. Just didn't imagine it would be Lake Tahoe, Nevada or Lake Seed, Georgia. Thought we'd be on the French Riviera. Ain't life grand? Never know where the wind will blow. Ron wrote that the time in the States wasn't The Ramble, but I think it was. Being at our condo in Tahoe is still just as new and exotic to me as being somewhere in Spain, the lake is so breathtakingly beautiful and it's still full of unexplored corners for us. And for the first time since we've owned the land in the North Georgia mountains, we actually spent an unbroken few weeks up there. That place is as beautiful as any forested hills we've seen in far away countries and my garden was in full bloom.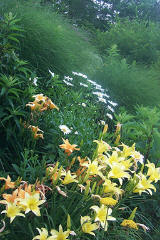 So why are we roaming the world when we are so fortunate to have those places? Resisting cliches, all I can say is that traveling the world is the best way I know to stay in love with my native land. Seeing new landscapes and exploring new cities opens my eyes not only to the different but also to the familiar. When I return to the States I see everything freshly. Taxiing into the city of New York after being in Europe for two months was very exciting. It is by far the most thrilling city in the world. And returning to Georgia two weeks after that reminded me of what a lovely, easy place Atlanta is. Despite its horrendous traffic! It was tempting to stay home, to consider the ramble at an end after only two months, to re-enter the rhythms of daily life, to look for new projects. But…out there is still Prague and Budapest, and Scotland and Norway and we were still packed. And we had those cruise tickets. And our evening clothes were in London…so, no question. Off we go.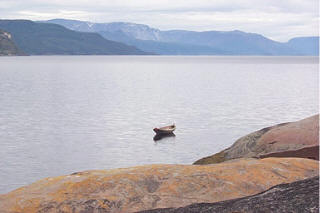 And now we are aboard the Silver Cloud sailing the Norwegian sea. One of two beautiful ships of the Silversea lines. The owner is on board. It's hard to think of these ships as being someone's actual personal possessions. But they are a charming Italian couple and we approve of their taste so we'll forgive them their excess. The ship is gorgeous, Italian designed, and the crew is a delightful stew of nationalities seasoned generously with Italians. So Ron is happy knowing that he is surrounded by his countrymen even though they won't let him steer. Each day is another round of fabulous food and entertainment, interesting people, gorgeous scenery. I have to admit I'm feeling bloated, overfed and overindulged. The service is so personal, so excellent, I believe the maitre d' would tuck me in bed and the steward would carry me to the deck chair if I wished. It should be easy to get enough exercise to wear off all this food, there are treadmills and jogging tracks and the streets of each city we visit, but I think the food is winning.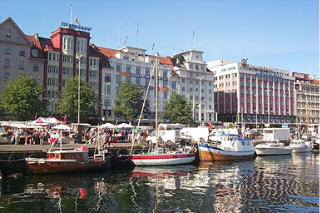 Besides the food, the cruise is always defined by the other guests on board. And here there is a fascinating mix of guests. There are about 300 passengers, not a lot compared to some of the really large ships, so it's easy to meet people and remember characters. We've met a Cardinal, a Brazilian orchid grower, a once upon a time movie star, a man who was once president of Columbia Records and signed the Beatles, another who was an ambassador to the UN and his wife who as a child hid from the Nazis with a farm family. An Italian count. A gloriously buxom American woman, way too ripe for her plunging necklines and tight slacks, who is traveling alone with her diamonds and her hopes. There is an Onassis look-alike traveling with a beautiful Asian woman many decades younger than he, and they sit each night in the same corner window table of the dining room, never with others. How does he get that table? We're told there are no reservations accepted. Maybe he owns a ship as well…We've gambled with a bunch of lively Spaniards who play with big stacks of chips and lots of inside jokes that we can't understand because we left our Spanish phrase book at home. We think they're making fun of our one chip hands. And there are the guest lecturers, people who have such interesting jobs or lives that the cruise ships give them free trips in exchange for two or three talks. We've met Karin who writes and travels for National Geographic, and Ned who teaches bridge when he's not sailing the Pacific and hacking on his computer. And then the bulk of the passengers are the cruise junkies. These are people who have arranged their lives around their cruises. Or their lives are their cruises. The Brazilian and his wife are on board for four consecutive cruises. There is a couple who have been on the ship for 98 days (as of today) and there are people who are leaving this ship and picking up another immediately. Most addicts take two or three of these cruises a year Last night at dinner we met a young retired man and his wife who have done eight in the last two years. These people get together and compare ships and itineraries and sail on maiden voyages. They seem to know all the cruise directors and personalities of each of the ships and everyone has their favorite port and cruise line. And one night someone at dinner told us about two ladies who live on the QE II all the time. When the ship goes into dry dock for repairs they rent a hotel room near by and wait. A table-mate, a woman from Long Island, a type I find very Yankee, sniffed at this and remarked that she had a life. But it could be a life of sorts, I thought, circling the seas, and a home of sorts, a suite on a ship, and a community of sorts, the crew and the ever changing guests. And perhaps friends all over the world. But they must love and endure a strange life: a kernel of the familiar, their suite on the ship, the dining room where they eat each day, the lounge where they take their tea, but surrounding is the changing seas, the shifting list of passengers and new ports each day. These two ladies aren't far from my mind the entire trip.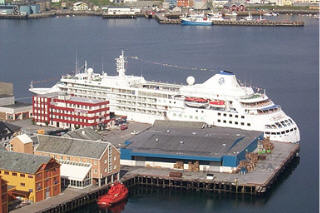 So each night Ron and I compare notes on who we met and who was the most interesting person of the day. It's a boat full of characters out of an Agatha Christie novel, a ready made cast for an Andrew Lloyd Weber musical. And we are already anticipating the next trip on the seas. Maybe around Cape Horn next winter. It's a wonderful life, settled in our suite, waking each day to another seaside village or town. The ship has become familiar, and we think she's very beautiful as we return to the dock after a day of exploring. We're tired from museums and markets and old cobbled streets. The flowers and fruit in our suite are fresh, we sit on our tiny balcony and watch the bustle of the port and wonder what amazing thing we'll eat for dinner tonight. We're joining the Cruise Junky Society as soon as we get back.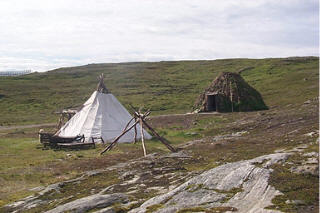 I haven't written about Norway yet. I think I'll include it with the Denmark writing, but it is a stunning country and I learned that the indigenous people, the Same, are related somehow in language and time to my Hungarian ancestors. They own the reindeer herds and live like Bedouin in tents of skin and turf. So between the moors of Scotland, and the tundra of Norway, my ancestors all were part of these bleak and airy lands. The coast reminded me of the northern Alaskan coast, although the forests of Alaska are bigger, and the coast of Maine, beautiful and bleak up in the most northern parts, lush and green and rolling in the southern waters. Tiny hamlets cling to the rocks by the sea, little farms cut out of the woods.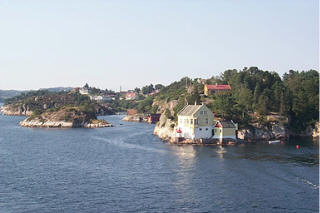 The people were all welcoming and warm, delighted in the summer and the visitors of summer. I couldn't help wonder what those long, long winter nights were like. A taxi driver told us everyone got very tired. Although you sleep a lot, your body is in hibernation mode, like a bear's. Many people live here because it's always been home and for generations their family has fished for cod or herded the reindeer, but a few come because the communities are close, the people friendly and, they say, there is a lot to do. There are hundreds of clubs and societies, there are numerous theater groups and musical groups, and indoor sports arenas. So I guess their human communities keep them warm. And I'm sure the landscape holds them, it's so compelling, so gorgeous…full of sky and distant sea, mountains and tundra.
Now we're in Copenhagen. Spent a beautiful summer night at delightful Tivoli gardens and a rainy morning writing. I've got a small cold, and we're resting, getting our land legs back. Ron is in planning mode: pleased to be back at the helm, figuring out where we go next and how we get there. We hope you are all well, please stay in touch, it wards off the homesickness!