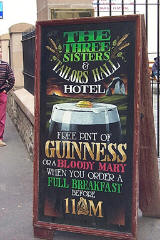 A Full English Breakfast
Susan writes:
We have finally made it to Prague. It seems that ever since we left Atlanta last April we have been heading here in a vague way. A couple of days ago we were sitting in a grim old hotel in damp old Cork, Ireland, mapping our route southeast to catch a ferry to a port in France to finally return to the continent and it was still raining and we were moldy and tired of melancholy Ireland and couldn't decide where to go next, Normandy? Germany? Italy (ah! sunshine!) And we decided it was now time to make it over to Eastern Europe since the summer is waning and who knows, we may decide to go home sometime (where is home? these days it is where our green suitcases are.) So we did. Caught a plane the next day directly to Paris to catch an overnight train avec couchette to Prague, got here two mornings ago and we are busy settling in, exploring, planning on being here for a while, ready for an adventure.
I can't tell you anything about Prague yet because all we've done so far is change rooms a couple of times (actually left one, tried out another and then went back to the first, the poor porter following us around like a sherpa!) and bag up our laundry and really, Ireland is next in line on Ron's itinerary sidebar. But it was fun to make up our minds so quickly about where to go and how to get there. I couldn't help but think of all those times it took weeks to decide, to make reservations, to confirm reservations, to pack, to search out guide books, just for a trip to Florida! And now we simply said, oh, let's go the the Czech Republic tomorrow! And within 24 hours here we are! Good for us! We've got this traveling thing down now.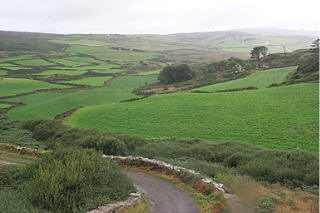 Ireland was all and more that you see in those luscious photographs in the glossy travel magazines: a gold and green Cubist landscape, patchwork fields , soft misty hills, barren mountains, windswept moors, and more rain than I've ever seen. Most of our time was spent in the southwest, County Cork, but we made stops in Belfast and Dublin before heading to the farthest corner of Ireland where we settled in to a funky little cottage in beautiful gardens with a manor house and an excellent French restaurant. If the weather had treated us as kindly as the Irish, we might have still been there, sitting in our garden in Ballylickey Manor, hiking those splendid airy peninsulas and racing down tiny hedgerowed lanes with Mario Antinori at the wheel. But you know those famous little green men that populate this land? They aren't dressed in green felt, it's mold that covers them.
But Ireland is a fascinatin' country, to be sure. If you care for just a bit of edginess in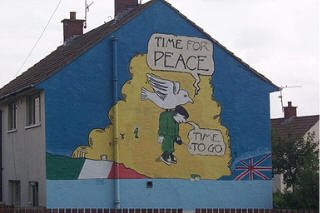 your travels, as I do, Belfast is an absorbing city. Its misfortunes and despair keep it off the beaten tourist routes so you won't find the busloads of camera-breasted travelers, the streets are quiet and solemn. But I think I finally understand who's doing what to whom. I was never clear on The Troubles and it is a sad confused struggle. I didn't realize that Loyalists Protestants who were born and raised in The North consider themselves British and have no interest in "being ruled by the Irish" even though they are living on ancient Irish soil. Or that The Republic of Ireland is now a completely separate country from their tiny neighbor in the north. But we learned all this and more with Jack the cabman who gave us a tour of Belfast that was remarkably balanced and unbiased and extremely moving. We had to press him to find out he is a Loyalist, loyal, that is, to England and considers himself a British citizen. He does believe that soon Ireland will be united, but not in his lifetime. What he showed us was very sad.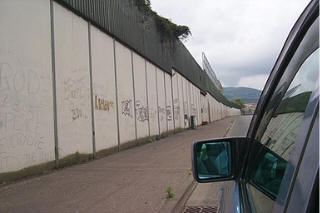 The Berlin Wall is down, but there is a lesser known wall here in Belfast called the Peace Wall that divides the Protestant ( Loyalists) from the Catholic (Nationalists, IRA, Sinn Fein) neighborhoods. Despite an existing cease fire, the gates are locked at night. The wall runs down the middle of a residential street, regular houses with tiny gardens on both sides, and is ugly and grim. The Protestant streets are all decked with the Union Jack flying everywhere, the Catholic side is drearier, more barbed wire and quieter streets. In both neighborhoods you can find extraordinary murals in brilliant colors in honor of certain political groups or beliefs.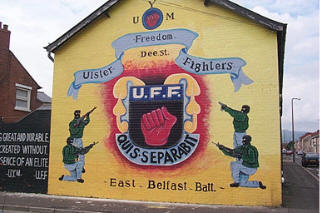 These murals have become one of Belfast's tourist stops, like the Parlianment buildings. They memorialize an continuting struggle. We saw most of them, as well as the cemetery where the Nationalist martyrs are buried, those ten men who starved themselves to death in protest of British human rights violations. One of which was a member of Parliament, Bobby Sands. It seems it took anywhere from 45 to 73 days to die of starvation.
A striking feature of the misnamed Peace wall, and the battles of the civil war, the stone throwing and the Punishments, is that it is all confined to the working class residential neighborhoods. In the downtown part of the city, all factions go to their jobs and work side by side. In the hills above downtown, near the gorgeous Parliament building, the wealthy live peaceably together in their large and beautiful homes. Jack the cabman said the Loyalists and the Republicans will go off on holiday to Spain, run into each other, wrap each other in Irish hugs, sing melancholy Irish tunes, drink all night, then go home the next week and throw stones at each other .
In Belfast there are black cabs, those wonderful British cabs, that ply up and down Falls Road (a Loyalist street) like buses and only the Protestants use them. This is because all the buses were burned while being used as barricades. Jack told us not to hail a cab.
In the downtown areas of Belfast the streets are generally very quiet with only a few squares and shopping areas with hopeful people out shopping and strolling and, on the morning we were there, listening to a piper,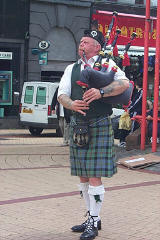 but compared to Dublin the town is eerily silent. I thought the buildings lovely, much more beautiful than those of Dublin, and the city very pretty, and I did not think the war showed its face at all until I noticed that from every street corner of the city, and from the entrance to every building, video cameras kept silent watch. Once you notice them, you see them everywhere and it's a strange feeling to know that every step you take is being photographed. The City Hall was really a surprising building, a riot of architectural styles all in one big white block. Old Queen Victoria still stands proudly in front of City hall, and I had to wonder why the Nationalists have left her standing there.She is certainly an easy target. Except for the murals there was very little graffiti at all. And the only buildings that seemed seriously damaged were police garrisons. Surprising.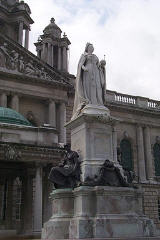 Since this isn't a political forum I won't tell you my conclusions on who should prevail in The Troubles, but it seems that anyone who reads just a bit of Irish history can't but help come to the same.
We stayed two days, one night in Belfast then picked up a rental car at the Belfast airport that was as secure as any military fortress, all barbed wire and cameras and checkpoints, you even have to talk to the rental car employees through bullet proof glass, which is really annoying because the brogue is hard enough to understand without it being muffled by inch thick glass, but we prevailed, climbed into our tiny Nissan ,and drove the three hours south to Dublin. Except for some money changers' billboards we never knew when we crossed the border. Very odd war, now you see it, now you don't.
Dublin is a congested, noisy, jammed city of grimy buildings and a sluggish river that they call the "sniffy Liffey" because of its odor in the summer. Big contrast to Belfast. Lots of good humor, a pub on every corner and six more in each block, and those ubiquitous young Europeans in black that we have seen in every city. The Italians and the French both adore Ireland and were there in full force. We stayed in a very hip hotel,The Clarence, owned by the band U2, where the staff tried hard to have attitude but failed because they are Irish, and Irish don't do attitude well, but they'll learn.
The hotel is in the Temple Bar area which is a bit like Bourbon Street gone Irish, and we thought we were in an Italian neighborhood. More pizza places than pubs! Lots of fun, but couldn't get a handle on a real Irish person. The city is so full of the young Euros and the summer tourist trade workers and students from all over that I don't know if anyone Irish really lives there. The buildings are all those flat faced Georgian structures with fan lights over the front doors that some think elegant but I find dull and blank. Or maybe I was just so busy trying not to get run over or pushed over that I didn't pay enough attention to architectural nuances. There are a couple of nice squares, and a huge public park that is five times the size of Hyde Park in London, 700 acres, called Phoenix Park, that also houses the President's residence, some government buildings and the zoo, and needs some good landscaping, but in general there is not a lot of greenscape in the city. We took a quick tour of Trinity College, saw the Book of Kells, climbed on a bustop tour of the city, did lots of walking around, ate at one good restaurant and one really bad pub (good pub food is an oxymoron) spent the night in our swell hotel, then climbed back in the car and drove off to see what we could see. Had to get those big cities out of the way before pottering around the countryside.
I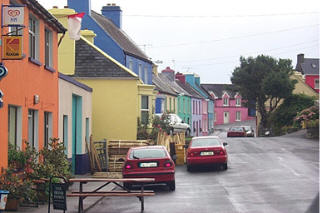 t took us a day to drive to the coast, with a stop at the Rock of Cashel which is really a large outcropping of rock on which stands the ruins of a castle, an abbey, a cathedral and a vicary and lots of old Gaelic crosses, a feast of ruins. We also stopped to buy a fun piece of art we saw in the street out of the corner of our eye in Inishmore. And Ron did brilliantly with all that wrong side of the road driving, although I didn't! We got to County Cork, a lovely part of Ireland that gets all its revenue from the masses of tourists and has tarted up its villages in lifesaver colors, (to offset the dreary skies although they like to say 'tis so the drunken Irishman can find his house at night while stumbling home, "It's the green one!" )and we settled in to our cottage expecting to stay for a week, to hike, write, sketch, pretend we lived there. Well, the weather wasn't with us at all. We got one good trek out to the cliffs on Sheepshead peninsula but spent the rest of the time dodging raindrops on the way to and from the restaurant and the car. We drove around the Beara peninsula (each of the little appendages on the southwest corner of a map of Ireland is a gorgeous wild peninsula, the prettiest landscape in the country, they say) where we climbed around some old castle ruins and Ron found some cows grazing about the old stones. He was very glad to see them and he interviewed them for his report (see below)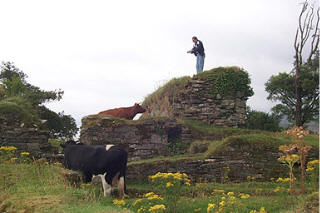 So we drove around, peering through the mist and the wet windshield, and tried to admire the hills and sea but it was so socked in and grey and wet, all we could think about was tea, or whiskey, or both, and soon.
Our little cottage was set in very beautiful gardens, fussed over by a particular French woman who had married an Irishman with an ancestral home in the country. Her pride is in her gardens and they are splendid. I spent half a day admiring them, missing my own. There was a real riot of color and blooms, in the cool damp climate everything seems to blossom at once.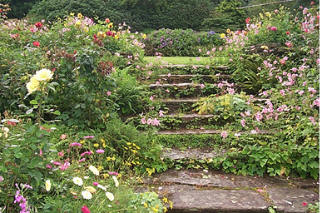 The manor house, with its "elegant" bedrooms was overdressed with chintz and tassels, heavy gold frames, and stuffed with antiques and "Town and Country" magazines, but our cottage was funky and charming and had a sun room (!) and its own garden, but when it started to leak, (right over the toilet!) and smell odd, and Ron was tired of driving in the rain, and I was feeling moldy and out of sorts from all the sog and disappointed that I couldn't hike more and my watercolors were still shrink-wrapped, we decided it was time to move on. We gave it one more chance: if we woke in the morning and by some miracle the sun was shining we'd drive north to County Kerry and maybe up to Galway, but it didn't shine and we headed east to Cork where we did what we always do when the trip bogs down: go to an Italian restaurant and catch a movie!
So now we've got a good feel for Ireland after seeing a healthy chunk of it. And it's lovely, really lovely. But wet. And we enjoyed those few Irish we had the chance to meet. They are wonderfully self deprecating, and they really do drink a lot. They like to think of themselves as "laid back" but I think they are damplimp. They are all a bit doughy and pale, like mushrooms, from all that rain. And they do seem melancholy. The pubs are not nearly as lively as the ones in Edinburgh. We ate lunch in a tiny village pub (the only one) at the end of Sheepshead and happened on a christening. The entire village seemed to be invited but it was the quietest group of celebrants I've ever seen. Maybe it's all that heavy food. They're nuts about their potatoes. Each dish comes with three kinds, fried, boiled and then done up somehow like in pancakes or cheese sauce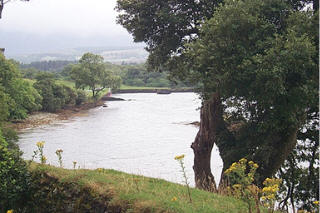 They say the rain is magical, and when the odd sunbeam breaks through the clouds like a spotlight and slides across the misty land, it is magical and stops your breath. But you have to be dressed and shod properly to really explore Ireland. And you've got to be out in the rain to catch that wet sunbeam. So next time we'll bring the wellies, the ponchos and the gore-tex weatherproofs. And go splash about in County Kerry.
---
Ron writes: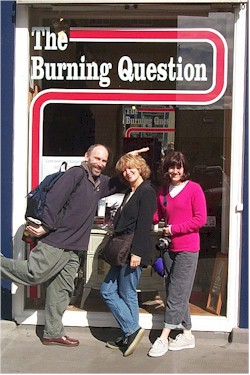 "All the world is a stage and everyone must play a part..." On our way to Ireland, we made a stop in Edinburgh for the Edinburgh International Festival and ran into Mike and Nancy again. What a nice surprise. Susan and I had been to Edinburgh several years ago to take a walk in Macbeth's footsteps among the trees of Birnum woods, and we happened upon a performance of one person playing all the roles in a Shakespearean play in a one seat contraption of a theater performing for a one person audience with a queue going down the street waiting for the next performance! We had discovered the Fringe Festival and vowed to return again, and we did.
The Fringe consists of over 3,000 performances of music, theater, dance, and comedy held in small venues all over Edinburgh. Performances start early in the morning, continue all day, and end early the next morning. Additionally, there are independent activities such as a Book Fair, Lectures, Exhibitions, a Film festival, as well as the more mainstream productions of theater, concerts, and opera held by the International Festival. There are printed reviews each day in the local newspaper as well as various magazines, so there was no problem finding something worthwhile and entertaining. .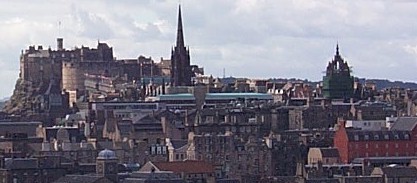 And of course, there is Edinburgh, in itself a performance developed over centuries by people that like to drink scotch, play music, talk about anything, and have a good time. It's a compact city falling away from the castle on the hill spreading out among buildings of old stone, new glass and steel, valleys of parks and monuments, all homogeneous. It's a city that welcomes you without shouting, embraces you without great pressure, intrigues you without promises, and beckons you to return without hesitation, and we will.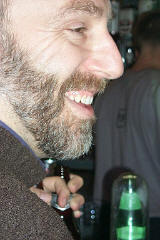 Mike wins the award for selecting the best and worst performances we saw. The best was called King Arthur and the Knights of the Occasional Round Table. It makes me laugh just to think about it. Two incredibly funny ladies wrote, directed, and played all of the parts. Their use of tiny props on a tiny stage was ingenious: Arthur (on horseback) "I say Lancelot, that is Camelot out there in the distance." Lancelot (on horseback using a French accent) "It is very tiny, it must be very far away!", Arthur (using a French accent) "No! It is just very tiny". As you know, Arthur's sword was called Excaliber. What you didn't know is his lance was called Ron. The worst performance was called Suicide. Great play, but poorly cast and badly acted.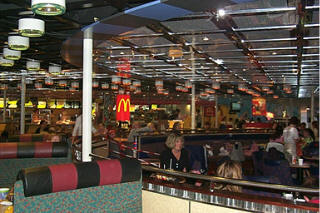 We sadly left Edinburgh by train one dark and windy morning traveling to the west coast of Scotland for the ferry crossing to Belfast Northern Ireland. The ferry was another surprise in a trip full of surprises: a MacDonalds, slot machines, face painting for the children, a fancy one star restaurant, lounges and entertainment. We were now prepared for our entry into Belfast, a city we hesitated in visiting for fear of reprisals because of my Catholic childhood education by Franciscan Nuns who use to lift me by my ears until I said Santa Margarita.
Susan and I have talked a lot about traveling on the edge, a term we use to represent the extremes of good and bad, like and dislike, black and white, Catholic and Protestant, etc. The edge gives you a perspective you would otherwise not have. We like to stay in nice hotels. When you get a bad one, you know what nice is really like. When we have a awful meal, we just find a French restaurant and our Epicurean expectations are restored. So the decision to go to Belfast was for us an edge type choice.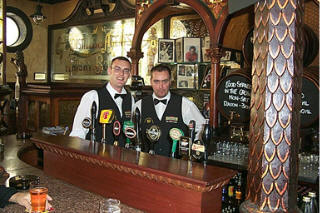 How many times have you missed a great play or movie or party because you assumed it was going to be a bore? Our trepidation was somewhat similar to our anxiety upon entry into Morocco. Assumptions: people fighting in the streets, burned out buildings, bombs in pubs, reticent and unfriendly citizens, decrepit buildings, life apart from the mainstream. What we found was no fighting, massive construction projects, an inner harbor restoration that would make Baltimore jealous, friendly bartenders, people coming and going like any normal town in middle America, and the shipyard where they built the Titanic. We hired a guide to show us around and Susan diplomatically broached the obvious by asking if he was a militant Nationalist or Loyalist and when did he stop beating his wife. He hesitantly responded he was a Loyalist. We both squirmed a little since even with that information we still didn't really know if he was going to execute us, but we were on the edge. I hid my rosary. Seriously, he was a wonderfully informative guide and sweet person who made our day in Belfast worth the trip to Ireland.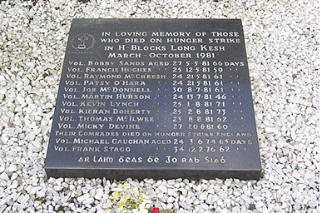 I was especially moved by our tour of the embattled neighborhoods and the overrun cemeteries throughout these areas and the many who gave their lives for causes I don't fully comprehend. Even if I were of Irish descent, I wouldn't know how to grieve for men who managed to starve themselves to death in just over 46 days. How can I understand the conviction behind that act when I can pack my bags, get on a plane, and fly back to the land of milk and honey. I never went to war or pointed a loaded gun at someone with the intent of pulling the trigger. No one has tried to take any of my cherished possessions or confiscate my land or deprive me of food. I did fight against the construction of a road once and I gave testimony about its impact on our neighborhood, but I didn't have to stop eating. And I got angry when my car had been broken into seven times. I wonder if they believed they would die before someone said, "OK. Let's talk this over". What provocative piece of their psyche gave them the strength to endure through two months of hunger? I wish I understood.
"The only thing worse than someone talking about you, is no one talking about you" I hope I haven't lost you with my reflections on conditions in Belfast because things get lighter as we travel to the Republic of Ireland with their leprechauns and wee glasses of Irish Whiskey, and fiddling music.
An interesting thing they do in Ireland is use a white sticker with a red letter "L" on certain cars. This means (1) I'm just learning how to drive, (2) keep a safe distance, (3) God knows what I'm going to do next, or (4) I'm an Italian/Irish driver. I'm not convinced these stickers are going to make a difference in traffic safety. How many times have you seen a "Student Driver" sign and thought: "Wow. Thank God I found out in time! I'll just crash into that other car over there with the "Baby on Board" sticker."
Our first morning in Dublin, we hopped on a tour bus, one of those double-decker models with a talking head of a guide pointing out all of the old buildings and monuments and telling humorous stories about Molly Magee. I recommend these tour buses because you can learn a lot of interesting things. For example, I discovered that the hotel we were staying in was owned by U2. I tucked that piece of trivia away probably losing some other piece of trivia in the exchange since I'm running out of storage capacity, but it wasn't until I read Susan's Ramble that I discovered U2 was a rock band. I thought U2 was somehow connected to one of the Belfast groups like the UFF or IRA or URA or UFA. I tried to hum something by U2, but nothing came out. I think they are a band my son Ron Jr. likes. In any event, their hotel was fantastic.
We like good hotels but we've stayed in some at both ends of the spectrum. We want to feel that edge. We usually ask to see the room before we check in pulling out our check list to make sure it qualifies for the Ramble Award: clean bathrooms, counter space for an assortment of articles de toilette , good shower, hard bed (after a day driving on the wrong side of the road Susan usually asks for two hard beds), internet connection, a sturdy elevator or strong bellman to get our many pieces of luggage to the room, and a place for his and her suitcases. Occasionally we are dissatisfied and look elsewhere or ask for a larger room with more light and better views, etc. However, when we performed this ritual at a Relais Chateaux Manor House in County Cork a very funny thing happened.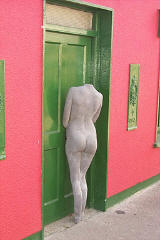 The gardens of the manor house were outstanding and our "room" was tucked away in a private garden with a terrace and partial views of the sea. You entered via a large sunroom into an entry foyer, and then into the spacious living room. There was a dining room off to the left, a sitting room to the right, a large master bedroom with a separate dressing area, and the master bath with tub, shower, bidet, and of course toilet. When the young women smugly asked if this would be satisfactory, I'm grabbing for the key, but Susan says "This is quite lovely, but do you have anything smaller"? I thought she had lost her head! Smug transformed to startled and then to smile and finally to laughter. While we were all laughing I secured the key and bid the young lady adieu.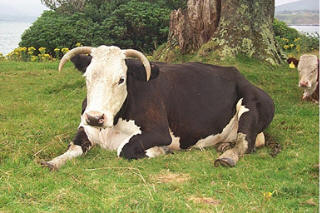 "And you thought mad-cow disease is a problem!"
Flatulent cows
top EU limits
by Joan Tobin
RISING levels of methane emissions from cows and sheep will soon exceed EU and UN limitations, a consultant economist and psychologists has said.
Mr. Paddy Walley told the Humbert Summer School that the issue had to be addressed by the agriculture industry, because it was cattle feed - the grass on Irish soil - which was responsible for inducing gaseous constitutions in the livestock. It might be necessary to reduce the number of cows in Ireland, he said.
Nearly half of all gas pollution in the Irish air around Ireland is caused by flatulent cattle.
Under the UN/EU "Kyoto Agreement" each country had been allowed certain gas emission levels. Ireland has been allowed to increase emissions by 13 per cent between 1999 and 2010.
"But we have already reached that this year and we could be 60 percent over the limit in 2010 unless we take very radical action," Mr. Walley said.

The preceding article was published in The Irish Times, Saturday August 21, 1999. I did not make this up. Susan has accused me of dwelling on this subject matter, but I strongly protest, it's my First Amendment Right. And she refuses to acknowledge I have accidentally discovered the real cause of the "Greenhouse Effect" and at the same time unearthed a great opportunity to import huge supplies of Beano into Ireland.
Here is the rest of the story. The cows feel that they have been given the wrong end of the stick and place the blame on this odorous affair squarely on the sheep who in turn deny culpability. They argue that the cows are larger, have longer tails, and eat more grass than sheep. This conflict has been going on since the potato famine of 1861 when cows and sheep enjoyed a healthier diet of mashed potatoes, leeks, and Guinness. It wasn't until the British began exporting all of the other vegetables grown in Ireland, leaving none for the Irish, that the cows and sheep starting firing on each other. The cows have banded together in an organization called MOO - Milkers On Oxygen. The sheep have formed their own group called BAA - Agneau Aren't Arses. They have requested representation in the Irish Parliament but so far have been denied admission.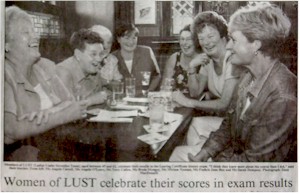 Things have even turned nasty in Belfast Northern Ireland threatening the current cease fire agreement between the Loyalists and The Nationalists. Each have sided with either MOO or BAA whilst The Loyalists have decided to stop drinking milk and The Nationalists have thrown out all of their woolen underwear. And a group calling themselves LUST - Ladies Under Seventy or Thereabouts, have intervened in a neutral role hoping to resolve the deadlock between The Loyalists and The Nationalists. Their solution is to place a balloon like device over the rear end of each animal. In effect, those animals that exceed the UN/EU standards for flatulence will soon find themselves floating out over the Irish Sea in the direction of the English Parliament where in the opinion of the Sinn Fein, a little extra hot air will not be noticed. The response from the Queen Mum was "Will not work. You can't pull the wool over our eyes." (I think I milked that for all its worth.)
Well, we're soaking wet from too much rain and the forecast doesn't look good. There's sun in the Czech Republic...... "Susan, where is the Czech Republic, is it time to ramble on?"