Rabat - Mohammed V Mausoleum
Ron writes: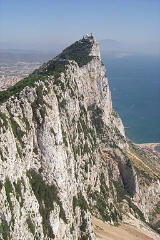 Before I relate my story about Africa's Morocco with its ancient cities and kasbahs spread throughout the countryside and the medinas for which the imperial cities are famous, I feel I would be remiss in not at least mentioning the few days we spent in Gibraltar looking at bird droppings on that great rock of which we all want a piece. So: "We spent a few days in Gibraltar..." And, although, according to our personal rating system, we stayed in our best hotel thus far, I recommend that if you should decide to retrace our rambling, you should perhaps sidestep Gibraltar and catch the ferry directly to Tangier.
I must admit that even though Susan and I consider ourselves intrepid travelers, our entry into Morocco was tenuous. The guide books we use are full of warnings about the hustlers and beggars at every point of entry, into the port, in front of the train station, at the hotel door, and along the streets. They repeatedly make recommendations as to how to deal with them. Forewarned and completely prepared, we stepped boldly off the ferry and into the waiting arms of our first hustler, Mustafa.
He was so nice and charming and he had this old man with him equally charming! Now these are simple uneducated people descended from an ancient race, but it is that descendency that has taught them the subtle art of the hustle that in its most obvious execution is undetectable even at its conclusion. Let me explain. We read the book, we talked it over on the ferry to Tangier, Susan tutored me in a few phrases in French designed to ward off the hustler, and after all that we found ourselves sitting in an empty train, in a hot empty compartment, on a siding away from any visible station, without an engine, two hours before any train was scheduled to leave for Rabat, having a conversation with Mustafa (the old man had left), exchanging telephone numbers, two tickets in our hands seemingly to Rabat and costing twice as much, and $40 poorer..... but we felt good about it. In the end, the tickets were valid, the train we were on left for Rabat on time and when Mustafa brought his beautiful child onto the train to tell us goodbye we gave him ten dollars more. That's the hustle.
The train ride was pleasant enough. We shared our compartment with a young college student, Nadia, who wanted to practice her English and Susan was delighted to be able to practice her French. She was helpful and informative telling us about Morocco and her family in Rabat. Along the way, several more very friendly people joined us and gave us their phone numbers and oranges and invited us to get off at the next stop and see their cousins about a rug. Nadia also warned us about the hustlers that we would meet at the train station and when we arrived we all embraced and she left us to go off into the arms of the next hustler, a man who took our bags right out of our hands to load them into the taxi. He rode with us the 10km to the hotel hanging onto the bumper until I paid the additional 5 dh ($.50) he wanted.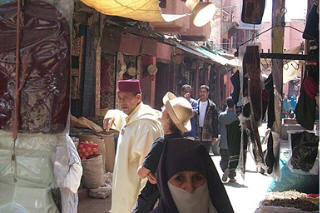 The next morning Susan taught me how to say "Je ne veux pas le guide, merci monsieur", "I don't want a guide, thank you sir". I practiced it over and over, repeating the phrase to myself as we walked through the kasbah, oblivious to things of historical interest, and at my first encounter with Mustafa II, I let loose the phrase, partly in English, partly in Spanish, and partly in pig Latin. Somehow what he heard and what I said were slightly different so off we went. How much could it cost for a ten minute walk around the block? After a sufficient amount of haggling with a discussion about a contribution for the kasbah and a little something for him we settled on 100 dirhams ($10) for our ten minute walk. I call this segment of the Ramble "How I Got Screwed in The Kasbah".
Marrakech. Its sounds romantic just to say it. Marrakech. I'm sitting on our balcony of the famous hotel La Mamounia. So famous that this is the only hotel we reserved well in advance. The Winston Churchill suite is just down the hall and there are pictures and memorabilia of him everywhere. He would sit on his balcony, which is much bigger than ours, painting the 30 acres of gardens that we lesser mortals can also see from our balcony. There are thousands of birds in the trees and shrubbery and, yes, one came and left another message on our breakfast tray. In the near distance are the snow capped Atlas Mountains, grand and majestic protecting the city from the wind swept sands of the Sahara desert. And stretching out to the left are the medina (old city) and souks (markets).
Throughout the day and at five o'clock in the morning we heard the call to prayer broadcast from the tops of the minarets and the baying of donkeys in the nearby neighborhoods. At 5AM it's impossible to distinguish the baying from the calling because the calling is amplified in some way. So we prayed, prayed that the calling would stop or that someone would feed the donkey. If you believe in reincarnation, you should hope that you don't come back as a donkey in Marrakech.
Our first day out in Marrakech we ventured into the medina gathering several guides along the way. At the center of the medina is this large open plaza filled with snake charmers, story tellers, vendors, and of course many tourists clutching their wallets and gathering into circles around whatever moved. Curious, we joined the fringe of several of these circle groups and watched as young men acted out some kind of Moroccan ritual. I'm not sure, but we think it was a form of religious ceremony. I was very disappointed. I just want to see belly dancers and jugglers.
Hand in hand, valuables and worthless maps tucked away and cameras ready, Susan and I plunged into the souks. Now the souks are an exquisite example of out of control urban sprawl. Donkey carts, taxis, bicycles, motorcycles, pedestrians, moving in all directions down narrow covered alley ways just wide enough to move out of the way of a passing donkey cart. To steal an observation from Bill Bryson the motorcyclists drive as recklessly through the souks as if they just spilled a bottle of muriatic acid in their laps.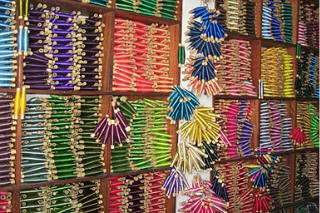 The souks are a maze of passageways spiraling out of control in all directions. In each new turn we came upon merchandise of varied quality and description. The colors, shapes, and symmetry are extraordinary. Pyramid shaped piles of black and green olives. Red, yellow, blue, and black spools of thread lined up on shelves. Rows of brightly decorated shoes and robes. Merchants in every doorway. Turns and arches, doorways and steps, my internal compass maintaining directional equilibrium. Deeper and deeper we went absorbing the delicious smells and sights, all of our senses overloaded. One could get lost in this maze........ Guess what? I should have dropped pieces of toilet paper.
Unlike Lenox mall, there is no information booth or signage or familiar store like Richs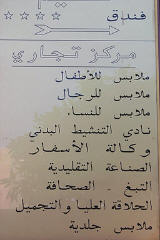 to get one's bearing. Hitch hiking is out of the question. Have you ever been on a street corner in a foreign country and asked directions? After a barrage of strange sounding words, if you follow the hand gestures, you can usually get a few blocks before you have to stop and ask again. This approach is not available to you in the souks. Enter Mustafa III and off we went to the tanneries after specifically asking the way back to the hotel.
Well, a bus load of American tourists have arrived in the hotel and invaded our community with the Moroccans. One gentleman in baseball cap and camera, somehow detecting I was also an American, boldly bid me good morning in English to which I replied, "Je ne veux pas le guide, merci monsieur" and walked away. It's time to leave this joint, it's getting too familiar.
---
Susan writes: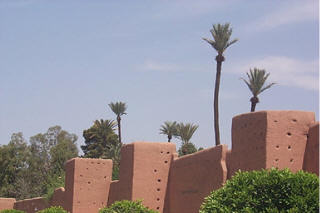 Oh my! This isn't Kansas, Toto!
Yesterday we saw snake charmers and tooth-pullers and musicians and fabulously costumed Berbers with monkeys on their shoulders. Guys in funny hats selling water. Giant lizards on leashes and donkeys everywhere pulling cartfuls of produce and goods into the souks. Come to think of it, it's not Atlanta, either.
We've been here a week? Ten days? Therewas already so much in Spain that I was having a hard time getting Granada and Gibraltar straight and now I've got to remember which Medina was which. Which tiny little alley had which fascinating little shop. All is running together like a river of wonder, and I've decided to just let it. I know it's having some sort of profound effect, this travel, on me, but I don't believe I'll know what it is for a long time. So let it simmer. Meanwhile, we're in Marrakech. This is a country of paradoxes. Incredible beauty and unspeakable poverty. Sweet gentle people with wonderful smiles and merry dark eyes occasionally disguised as aggressive tenacious hustlers, and kind folks who'll gladly part you with every dirham you've got in your pocket. Gorgeous children begging for un cadeau and les bonbons. Fabulous lush gardens in the middle of the dusty dry plains. Our first Moroccan city, Rabat, was an experience in toe-dipping: still enough of the west to feel familiar but enough of the east to be exotic. A good way to experience our first Medina, a pretty blue and white village, a vague grid pattern. I thought it would prepare us for Marrakech.
Nothing can prepare you for Marrakech if you're a garden variety Americano with visits only to European capitals. I've never seen anything like it. Actually, some of the pueblos in New Mexico have a similarity to the kasbahs, perhaps. Low slung mud-stuccoed exterior. Flat roofs that are really terraces and an essential part of the living space. But Marrakech is red, the color of Georgia clay only rosier, softer, and spreads out in a lush oasis under the knees of the Atlas mountains still snow capped in mid April. From a distance, coming in on the train, it was a mirage:: the low buildings so melting into the palms and the desert that only the minarets were really distinguishable as architecture and the rest seemed just odd natural formations of rock or sandbreaking through the date palms. It wasn't until we were almost in the train station that we could tell it was really a marvelous city the likes of which we've never seen.
On the advice of friends we are staying in Paradise, known as the Hotel La Mamounia.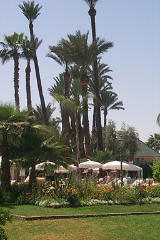 The Muslims believe that heaven is a cool green garden with clear running waters. So the Sultans created their own heavens on earth and here we are in one of them. Before the hotel were the gardens, a wedding present from a Sultan to his son, thirty acres of fabulous gardens and fountains and splashing lily pools where flowers that are supposed to be seasonal bloom all together, all at once. Now there is a pink pile of Moorish and Deco architecture in the middle of this heaven where wealthy semi-nude Europeans lay abou