Madrid - April 3, 1999

Ron writes:
"Delta Flight 108 to Madrid is ready for immediate departure."
......<drug induced fog>......
"Ladies and Gentlemen, we are about to arrive in Madrid".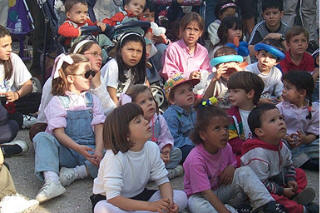 Not much to say about the flight except that the new seats in Business Elite move into 239.5 different positions and even with my long legs, I found the sleep position extremely comfortable. Delta has combined first and business classes which adds up to a lot more people, noise, and stewards wanting to serve you something when all you want is to sleep.
Our first bit of cultural shock was to discover that very few people speak English, when you say "Por favor, habla Englese?" you usually get a "No". So the phrase book we bought has turned out to be a necessity and a liability. Although I'm not bad with the pronunciation of the questions, the problem is their response. It is never in the book or I simply can't find it as fast as they speak it. And that normally ends the conversation. For example, I was able to secure a room in Toledo but I'm not sure for how many people or on what day. And Susan had her palm read by a short dark gypsy women who keep looking at me (I was the one holding the phrase book and Rough Guide to Spain) while pointing to Susan's love line and saying in Spanish "Argh u shur heas yur usbnd?"
Also, the menus are all in Spanish and use many unfamiliar words. At our first lunch, we accidentally ordered two bottles of wine when we only wanted two glasses, two very large bottles of water (con gas), a large plate of miscellaneous meats and cheeses, and more olives than four people could consume. So, for our last several meals we have only eaten things we could point to at an adjoining table. Limiting but usually safe. We've also discovered you can tell a really good restaurant if the food is wiggling in the window.
As we were eating, three events occurred that I'm convinced are a harbinger of things to come:
a carrier pigeon, sitting directly over Susan, let loose with an offensive message that landed on her left sleeve as well as splashing onto the table

my watch stopped, without warning

one of Susan's sunglass lenses fell out into her soup
I threw away the watch (it was old) and bought a cheap Casio that works much better. I 'm carrying a glasses repair kit (thanks to the suggestion of Ron Wallace) and fixed her sunglasses. But the pigeon stuff was Susan's problem. While I circled the block, Susan whipped a bottle of hand disinfectant lotion out of her backpack and began to remove all traces of the foul deed. If nothing else, we came prepared.
Today is Easter Sunday and we walked all over the city listening to the music and watching the Spaniards as they strolled with their families through the park. The children are beautiful with their dark eyes, jet black hair, and smiles that can light up the city. To be a child in Spain is to be in heaven. They are adored. Strangers will pick up a lovely baby and kiss it, talk to it, walk with it to look at something interesting, all as if it were their own. Mothers and friends are constantly attending to them How could you ever be insecure growing up with that amount of attention? And their little voices are angelic as they talk in full sentences to adults, each phrase ending in a sweet inflection or question, i. e., "Father, how come I can speak in Spanish at such an early age?".
Its April 10 and we've arrived in Granada after a beautiful train ride through a magnificent low mountain range covered with huge olive plantations. I'm struck by the extensive area we traveled through void of villages or even occasional houses, there were none! And yet, olive groves everywhere. Where are the people to pick them?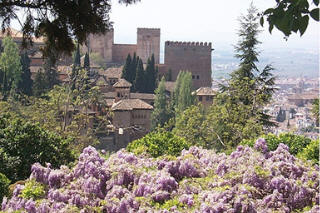 Granada is a place we could stay in for an extended time. It's draped over hills separated by rivers with old town facing new, gypsies picking over the tourists, and the Sierra Nevada snow capped mountains in our view in the distance. We spent the first day visiting the Alhambra. It took over 5 hours. The description would be longer so I refer you to your history books (try Tales of the Alhambra by Washington Irving) and travel guides which would be well worth reading. There was one thing I'll share that fascinated me and it was the extensive underground water piping system into the grounds from some mountain river above that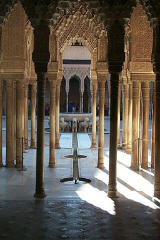 found its way into fountains throughout. As a result, there are lush gardens everywhere and stone lined streams cascading from one terrace into another, into living quarters, and patios with beautiful tile-lined swimming pools.
At our afternoon lunch of tapas on the square, the waiter tied the strap of my camera bag to the chair and explained that the gypsies will snatch your bag in an instant. So I tied Susan's pack to my leg..... it wasn't long before I was touring Granada on my back, Susan's pack firmly attached to my ankle, while this gypsy pull me by the strap. Not true, but we both got a laugh imagining the possibility.
It seems our days are filled with talk of where to have lunch, what to see next, when do we leave for the next place, what is the next place, how long are we going to stay there, etc? Having 25 travel guides and cross-referencing each is exhausting but worthwhile work. Exhausting, not in the reading, that's fascinating, but in the carrying. In fact, Susan is starting to complain about the huge backpack I bought her to carry all of those books. Is there any sympathy out there for us?
We're off to Gibraltar for a day and then Morocco (probably straight to Rabat). Talk to you soon.
---
Susan writes:
First impressions: There is a group of Peruvian Indians who clap and sing in the square under our window, intoxicated by cheap red wine and the sound of their own voices resonating on the stony walls. We're in a small square of cobbles and stone and tile with only narrow streets leading in. Perfect acoustics. On the other side of the square, under white umbrellas lined up on the narrow sidewalk like buttons, are the Madrilenos who come out after work to drink their copas (cocktails) and eat tapas (small dishes of olives, cheese, sardines, mushrooms…or whatever the bar's specialty is). They sit in the sidewalk cafes and talk loudly and enthusiastically all night. In the next hotel room to us, through the thin walls, I can hear an excitable gentleman who may be talking to himself, or perhaps on the phone…they are always on their cell phones, these people of Madrid. Cities all have their peculiar sounds, usually traffic noises, but Madrid's is the babble and burble of voices. The people love to talk. All at once. Loudly. Happily. I think Ron was once a Spaniard.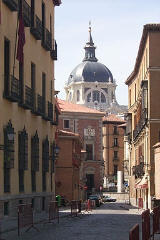 We're in the oldest part of town. I forgot, since we were last in Europe, that the old towns of southern Europe are not places for claustrophobes. When, after a time of wandering the tight warrens of antique calles, I pop out into the space and air of the open plazas or the wider boulevards, I'm driven back into the cool narrow dark streets by the sun's heat. Oh. I get it. It's supposed to be this way in these sun struck lands. Narrow dark and cool. And dusty. The stones are leaking. All that history and stone dust too. The windows are all, every single one, decorated with those iron balconies that you expect to find in Spain. I haven't seen a senorita up there yet, sighing for her toreador, but I've seen a good looking man on his cell phone who waved to me as I stared at him from the restaurant below
Our Big Plan is working. Stay if we want, move on when we've exhausted the things that interest us. Madrid is more than we expected, so we've stayed on. Such a lot to see. Philip Johnson, the architect, said one should never look at more that five pictures at a time. Or was it four? Three? We've looked at hundreds, between the Prado and the Museo Nacional. Picasso's "Guernica" is the one that is still in my eye. We've also looked at palaces and cathedrals and forts. And other old towns.
In Segovia, from a window in Queen Isabella's office in her castle (perhaps she received Columbus here) we could see a small village on the hill beyond the river that is notorious for one thing. Once a year the women officially rule the town. There is irony here. I'm sure Isabella thought so too.
In Toledo I had to blink back tears when I heard the story of the general who sacrificed his son rather than surrender the Alcazar to General Franco,. His son was being held by Franco's men and he was barricaded in the fort that was once commanded by El Cid. Franco's officers telephoned and told him to give up or they would shoot his son in ten minutes. He spoke to his son on the telephone and told him to turn his thoughts to God and die a patriot. His son was shot. Four days later he was ordered to surrender by his own commander. Spain is full of stories like that. Romance and passion and tears are mixed with the dust in the old stones.